OTTO Marble Silicone Smoothing Agent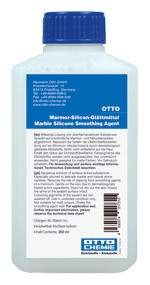 Characteristics
Aquaeous solution of surface-active substances
Especially attuned to delicate marble and natural stone varieties
Reduces the risk of staining from smoothing agents to a minimum
Gentle on the skin due to dermatologically tested active ingredients
Does not dry out the skin
Keeps the shine of the sealant surface intact
Colouring pigments of the sealant are not washed off
Use in undiluted condition only
Not suitable for matt colours
Fields of application
Smoothing of sealants in contact with natural stone
Standards and tests
Due to the results of the in-vivo compatibility test (test report of Institute Fresenius, 65232 Taunusstein, Germany) the OTTO Smoothing Agent is classified as harmless in terms of a potential skin irritating effect
Technical Documentation

Technical Datasheet

Safety Datasheet
Additional useful information
The OTTO Marble Silicone Smoothing Agent must always be used undiluted. It is advisable to use the smoothing agent sparingly.
The smoothing agent used should always be new and without impurities. To prevent stains/discolouration on the natural stone, remove excess smoothing agent with clear water before it starts to dry. Matt-finished colours have to be rebated dry, in order to keep the matt-effect on the surface.
Nevertheless, owing to the unique character of natural stone, stains/discolourations cannot be ruled out completely. Because of this and the many possible influences during processing and application, we advise carrying out preliminary, object-related tests.
The dermatologically tested ingredients of the OTTO Marble Silicone Smoothing Agent have been rated as "non irritating to the skin" by the Fresenius Institute, Taunusstein, Germany and therefore do not, unlike washing-up liquids, dry out the skin. Nevertheless, hands should be washed and re-moisturized after use.