OTTO Smoothing Agent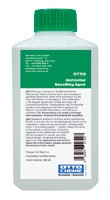 Characteristics
Aquaeous solution of surface-active substances
Gentle on the skin due to dermatologically tested active ingredients
Does not dry out the skin
Dilutable with water; 2 (smoothing agent) : 1 (water)
Keeps the shine of the sealant surface intact
Colouring pigments of the sealant are not washed off
Not suitable for marble and other natural stones
Fields of application
Smoothing of sealant surfaces including silicone, polyurethane and MS hybrid polymer sealants
Standards and tests
Due to the results of the in-vivo compatibility test (test report of Institute Fresenius, 65232 Taunusstein, Germany) the OTTO Smoothing Agent is classified as harmless in terms of a potential skin irritating effect
Technical Documentation

Technical Datasheet

Safety Data Sheet
Additional useful information
The OTTO Smoothing Agent may be diluted with water. When using smoothing agent, water stripes that occur must be removed immediately. If not cleaned till later, this may result in permanent streaks.
Do not allow residual smoothing agent to dry out. Larger quantities of smoothing agent should not remain on the silicone joint and start to dry out on top of it because these residues may impair the optical appearance of the sealant surface (dull/light patches).
Before use, preliminary tests should be carried out to ensure the compatibility with adjacent surfaces, for ­example different types of coated wood.
The dermatologically tested ingredients of the OTTO Smoothing Agent have been rated as "non irritating to the skin" by the Fresenius Institute, Taunusstein, Germany and
therefore do not, unlike washing-up liquids, dry out the skin. Nevertheless, hands should be washed and creamed after use.