Silicone with double protection against mold
OTTO-CHEMIE presented a new revolutionary silicone adhesive sealant at Bau 2017 in Munich, with the new patented OTTO Fungitect®Silver-Technology technology for unprecedented long-lasting, anti-mold protection.
OTTOSEAL® S 140 is a special MEKO-free silicone sealant with a double anti-molding protection to provide sealing in damp environments subject to high stresses such as in showers or hotels and public baths, swimming pools, sports facilities, gymnasiums, hospitals, spas, wellness centers, etc.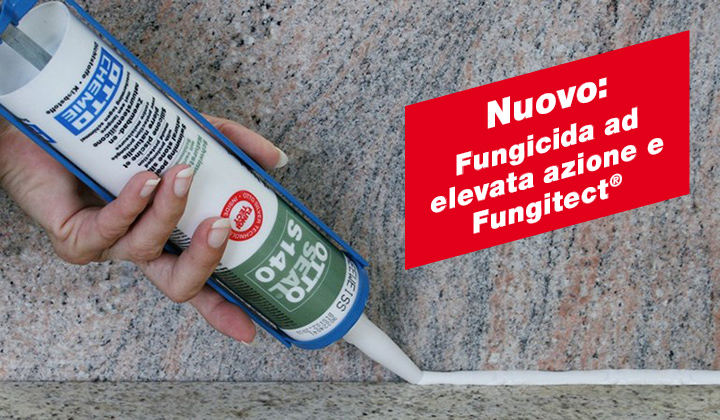 Advantages of OTTO Fungitect® Silver-Technology:
Silver has been known for centuries as an active substance by antimicrobial action and is nowadays used in many ways as an ingredient in ointments and creams for the treatment of lesions and ophthalmic drops.
Silver is harmless to health and the environment.
It is known that microorganisms against silver can not exert any resistance, that is, they can not "get used to" the active substance – the effect remains unchanged.
Compared to traditional fungicidal products, Fungitect® is not removed from the sealant even under the energetic action of the water and can therefore extend its effectiveness for a longer period of time.
The service intervals for resilient joints may therefore be considerably prolonged.
Contains silver micro nanoparticles.